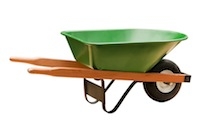 Flat Free Polyurethane Tires for Wheelbarrows:
Polyurethane foam is more resistant to abrasion than rubber so it is much more difficult to wear through the surface.

Even if the outer surface becomes worn, the tires will still perform extremely well!

Flat Free Polyurethane tires are not affected by damaging UV rays or ozone that cause cracking and rotting.
Flat Proof Wheelbarrow Tires Save You Time AND MONEY!
A flat tire on your wheelbarrow can mean headaches. Time is wasted when your wheelbarrow is not in use, and if you are a contractor- this means costly downtime!
These abrasion resistant flat proof wheelbarrow tires will keep your wheelbarrow rolling.
The 4.80/4.00-8″ flat free wheelbarrow tire is the perfect tire for a contractor or anyone who needs a high load capacity. It is the most common wheelbarrow tire size.
Not sure which wheelbarrow tire you need? Contact the Wheelbarrow and flat free wheelbarrow tire experts at Ken Jones Tires.
Call 1-877-862-1286 or email us your questions.
| | | | | | | | | | | |
| --- | --- | --- | --- | --- | --- | --- | --- | --- | --- | --- |
| | Size | Tread | Hub | Bearing | Diameter | Weight | Capacity | Item # | Price | Buy Now |
| | 4.80/4.00-8″ | Ribbed | 6″ | 5/8″ | 15.5″ | 8 lbs | 500 lbs | 00001M | $47.95 | |
| | 4.80/4.00-8″ | Ribbed | 3″ | 3/4″ | 15.5″ | 8 lbs | 500 lbs | 00063M |  $47.95 |   |
| | 4.80/4.00-8″ | Smooth | 6″ | 1″ Bushing | 15.5″ | 8 lbs | 500 lbs | 00030M |  $47.95 |   |
| | 4.80/4.00-8″ | Knobby | 6″ | 5/8″ | 15.5″ | 8 lbs | 500 lbs | 00047M | $48.95 |   |
|   | 3.500/2.50-8″ | Ribbed | 6″ | 5/8″ | 13″ | 6 lbs | 300 lbs | 00003M |  $36.95 |   |